Retaining Walls
Retaining Walls Can Add Elements of Appeal and Versatility to Your Landscaping
When homeowners turn their attention to the landscaping around their property, it is quite likely that their thoughts will focus on such undertakings as planting, pruning, weeding, and lawn care.  For the most part, these are the essential actions that tend to receive a majority of their time as they strive to achieve and maintain the look they want for their property; it may also reflect the extent of their comfort and confidence whenever they work in the yard.
There is, however, another aspect of landscaping that can enhance both the appeal and the versatility/functionality of a property; that is, the strategic placement of stone curbs and/or stone or wood retaining walls.  These features, when properly constructed, can add greater dimension and definition to any landscaping, whether that specific property is relatively flat or has some degree of slope or grade.
In a general context, retaining walls and curbs are structures that are designed to hold back soil/earth.  But when smartly incorporated into a landscape design, they can provide a wide range of benefits in terms of presentation and function, such as:
Greater aesthetic appeal
Better overall use of space
Preventing soil erosion or shifting
More resourceful use of sloped terrain
Furthermore, these types of features can offer several financial/cost-saving benefits as well:
Increased property values
Minimal/limited maintenance
Durability (weather resistance)
Long-term return on investment
In order to realize these benefits to their maximum, property owners must rely on a skilled landscaping services provider to construct their retaining walls and curbs in the appropriate fashion; this includes the installation of such features with the foundation and reinforcement needed to support their respective purpose and to avoid post-installation shifting or sinking.
To that end, property owners can depend on the landscape construction expertise of Simple Solutions Landscaping and Snow Removal.  The construction crews from Simple Solutions Landscaping and Snow Removal will ensure that any/all retaining walls and curbing projects are done with the required attention to detail to produce the desired look, function, stability, and financial return; all such work is also guaranteed to remain within project specifications and approved budgets.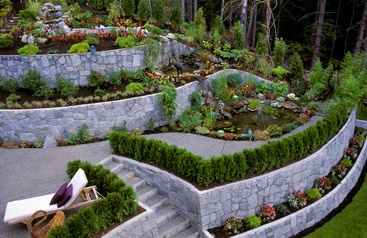 As a means of streamlining and expediting the overall construction process, the team from Simple Solutions Landscaping and Snow Removal can arrange the purchase and delivery of all project-related materials on behalf of their customers at no additional cost.
Expert Natural Stone, Concrete Wall Blocks, and Wood Construction to Meet Your Needs
The landscaping construction crews from Simple Solutions Landscaping and Snow Removal have the expertise to create beautiful and functional retaining walls (stone, wood) and stone curbing or borders using these types of materials:
Concrete Wall Blocks – cement-based stones
Natural Stone – armour, decorative, other available types in unique shapes/sizes
Wood – varieties suitable for use in construction/carpentry
With respect to their specific capabilities, these crews can add dimension and definition to a property through a range of features that include, but are not limited to, such examples as:
Privacy walls
Raised gardens
Entrance columns
Multi-level flower beds
Driveway borders/curbs
Decorative property markers
General Questions About Retaining Walls
Can You Incorporate Retaining Walls into Any Landscaping Design?
Yes! Simple Solutions specializes in retaining wall landscaping. We have qualified professionals to understand your needs and come up with creative solutions to include garden retaining walls into your home landscape design along with other features. Whether you need one as the backdrop to a patio area or a pool, we can make it happen.
What Should the Height of My Retaining Wall Be?
Before determining the right height for a garden retaining wall, our specialists will consider the essentials. We will assess your property, its overall condition, availability of space, aesthetics, your budget, and more. We will help you find a visually appealing solution.
How Can Simple Solutions Help Me with A Retaining Wall?
By working with a professional contractor like Simple Solutions, the process of installing retaining walls can become hassle-free and less time-consuming. With over 18 years of experience constructing and installing retaining walls, we can offer economical landscaping solutions to help improve the appearance and functionality of any property. We will plan, design, and build garden retaining walls at your convenience and ensure it complements the architecture of your property.
Can I Choose the Colour and Style for My Landscape Retaining Wall?
We offer several colours, styles, and materials, including concrete blocks, natural stone, and wood, when it comes to garden retaining walls. Whether you need a privacy wall, raised garden, multi-level flower beds, or decorative property markers, we can help you choose suitable materials for the desired result within your budget.
To discuss and plan the specific landscaping construction needs for your property, call the specialists from Simple Solutions Landscaping and Snow Removal at 416-271-3503 today or contact us to obtain a free estimate.